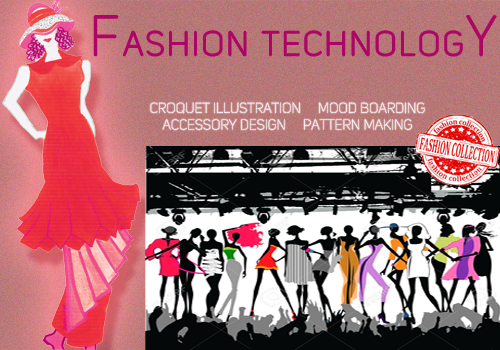 Fashion Design Program Overview
In this program you will learn to use a wide array of software tools and programs used by leading in-field professionals to style and create cutting edge patterns, designs and apparels that truly represent your fashion vision. You will also be introduced to software assisting specific areas of the trade such as digital pattern making, design, embroidery, knitting and weaving; and supply and distribution related areas of the business such as bar coding; point of sale and product design management. You will use programs that are easy to use but also delivers professional fashion illustrations that are above & beyond industry standard. You will learn Photoshop, digital illustration and the fundamentals of design; you will learn about colour theory; you will learn to apply concepts in measurements, proportion, fabric, stitches and accessories; you will be creating a full range collection for a wide variety of formal, semi-formal and informal occasions. At the end of the program, apart from building your personal portfolio, a necessary prerequisite if you are considering higher education in this field; you will acquire the skills to design your own ensemble; you will have a good understanding of the design process; you will know how the industry works and what you might be able to contribute to it.
STRIDE Fashion Design Courses:
Fashion Core DESIGN:

Develop portfolio including 6 fully illustrated projects in street, stage and formal fashion including mood boards, croqui and accessories.



Key learning areas:

Principles of Fashion Illustration; Photoshop; Illustrator, Portfolio making & fashion collection launch through digital media.
Wearable Device Design:

Develop wearable fashion artefacts such as handbags that can double as phones, bangles that can purify air, LED powered dresses synched to your favourite tune.



Key learning areas:

Principles of Fashion and Product Design; Inventor; C Programming
Careers in Fashion Design:
The following list is just a small taste of the possible positions that may be open to you as you move throughout your career. As you develop your skills and find your niche, you may discover your dream job fits into one of these categories, or you may move outside these boundaries; either way, Thinnox's objective is to help you find your way into a fulfilling career doing what you love.
• Fashion Designer
• Fashion Marketing coordinator
• Fashion sales Manager
• Retail merchandising analyst
• Digital marketing specialist
• Online Fashion marketing specialist
• Fashion Business modeling manager